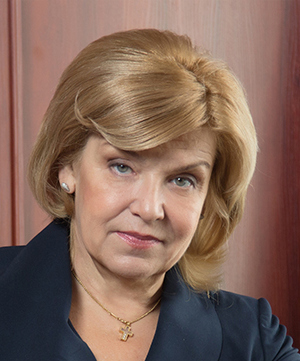 Expert in: USAID public-private partnership development project, EU "Budget support for implementation of the Energy Strategy of Ukraine" on public-private partnership project.
Member, the Board of Directors of the International Consortium on Governmental Financial Management (ICGFM)
Member, the Special Committee on Accounting Standards of the International Consortium on Governmental Financial Management (Ad Hoc Committee on International Accounting Standards, ICGFM)
Ukraine's representative, the Working Group on Improving Accounting and Reporting of the UN Conference on Trade and Development (ISAR-UNCTAD)
Expert on harmonization of the public procurement system of Ukraine with the EU standards, Crown Agents Ltd company (EU)
Leading expert, the UN Children's Fund (UNICEF) in Ukraine
Ukraine's representative on cooperation with Evans Incorporated (USA), a management consulting firm
Expert on -
Fiscal policy dimension;
Financial analysis and public finance management;
Anti-crisis management;
PPP (public-private partnerships).
Milestone publications -
Milestone publications – the author of more than 150 scientific and analytical works, including 3 monographs and 20 works with personal contribution et al, inter alia:
Current Issues of the Public Finance Management System Development in the European Integration Context, 2016(Ukrainian language)
Public Finance Management Enhancement and Tax System Reform in Ukraine, 2015 (Ukrainian language)
Financial Globalization and the European Integration, 2015 (Ukrainian language)
Public-Private Partnership in Relations Between the State, International Organizations and Transnational Corporations, 2015 (Ukrainian language)
Modernization of the Financial System of Ukraine in the European Integration Process: in 2 vol. , 2014 (Ukrainian language)
Fiscal Preferences in Government Regulation System, 2014 (Ukrainian language)
Tax Burden Dynamics in Ukraine in the Context of Tax Reform, 2013 (Ukrainian language)
Development of the National Financial Monitoring System, 2013 (Ukrainian language)
Improvement of the Corporate Income Tax in Ukraine, 2013 (Ukrainian language)
Fiscal Space of Crisis Management, 2012 (Ukrainian language)
Ukrainian Tax System Development: Transforming of Simplified Taxation, 2011 (Ukrainian language)
Articles in foreign journals
«Tax Payment Mechanisms In The National Economy» in Collection of material devoted to International conference, UN: historical tradition and contemporary law (2-3 October 2015 in Blagoevgrad, Bulgaria)
Answering key questions of tax policy // The Tax Policy Debate: A Matter for Society as a Whole. FEE fosters the debate with stakeholders. Publication by the Federation of European Accountants (FEE). April 2015
Scope of scientific interest - institutional development, public sector economics, fiscal policy, tax regulation, the relationship between the state and business.
Personal interests - travel, classical music, theater, yoga.
Languages - English, Russian, Ukrainian, Latvian.